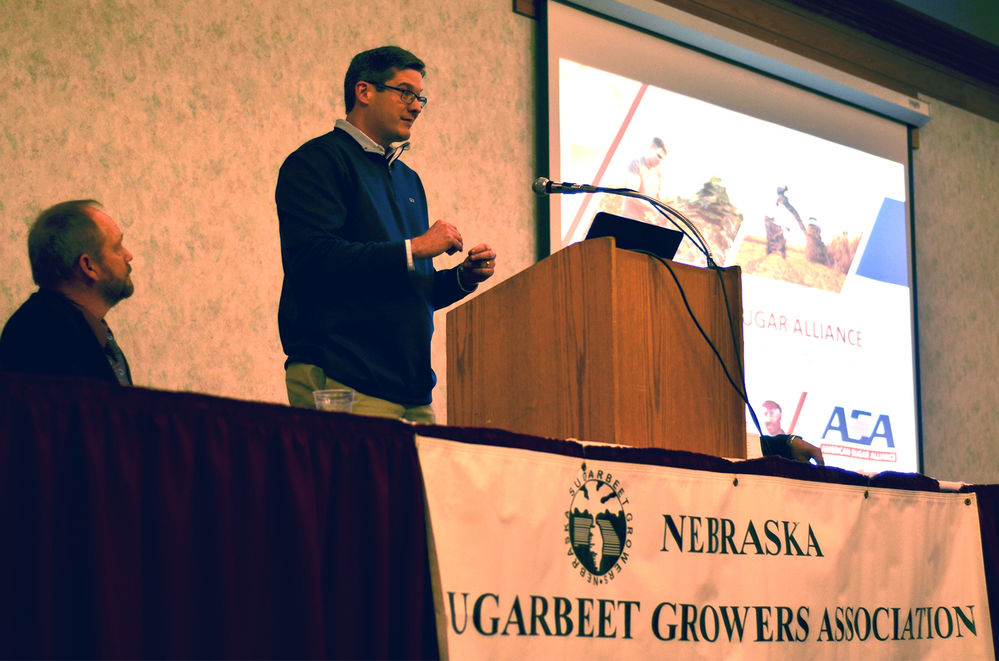 GERING — Phillip Hayes, director of media relations for the American Sugar Alliance, gave a brief history of American Sugar Policy during his presentation Thursday to the Nebraska Sugarbeet Growers Association at the Gering Civic Center.
Hayes said that the U.S. has not always had a strong domestic sugar industry, which can be detrimental given sugar's central importance to the U.S. diet.
On Jan. 30, 1942, 54 days after the Japanese surprise attack on Pearl Harbor, Hawaii, launched the U.S. into World War II, the Emergency Price Control Act granted the Office of Price Administration (OPA) the authority to set price limits and ration food and other commodities. The first item on their list was sugar, which at the time the U.S. was heavily reliant on imports to meet consumer demand. By Spring of '42, Americans were unable to purchase sugar without using government issued coupon books. Long lines were often seen outside stores where sugar would quickly be sold out before those in line had a chance to purchase it. Families would often have to pool their sugar together to make a single birthday cake.
And by the end of the war, restrictions on foods and fuel were lifted, however, the sugar ration remained in place until 1947. The shortages and demands created during World War II were the impetus for U.S. sugar policy today which favors domestic production and limits imports.
U.S. sugar policy, which operates under the Farm Bills overwhelmingly passed in 2008 and 2014, is based on the common-sense notion that supply and demand should be in balance.
Sugar is the cheapest major commodity program because sugar farmers do not receive subsidy checks. To ensure that sugar policy runs at limited cost to taxpayers, the U.S. Department of Agriculture (USDA) has three tools at its disposal. The agency can slow the flood of foreign imports to those required by our trade agreement obligations (however, Mexican imports are unlimited under NAFTA), it can limit the amount of sugar American farmers can sell, and it can divert surpluses caused by excessive imports into non-food use.
Each year, the USDA forecasts U.S. sugar consumption and decides whether to limit the amount that U.S. producers can market, and allocates market share to 41 foreign countries based on U.S. import commitments in trade agreements, such as the WTO and CAFTA. By avoiding oversupplies and shortages, sugar prices stay stable And the fair prices eliminate the need for government payments to farmers.
However, that system is now under attack, Hayes said in a bellicose tone.
In an recent interview with Politico, Christopher Gindlesperger, vice president of public affairs at the National Confectioners Association, said the U.S. sugar program "really only benefits 13 mega-sugar producers" and is "such an outdated and outrageous program."
"They're basically operating in a risk-free environment," Gindlesperger said.
On Wednesday A coalition of business groups sent a letter to Congress on Wednesday calling for passage of bipartisan legislation that would reform the sugar program. In the letter, organized by Citizens Against Government Waste, the groups describe the United States' sugar program as "an outdated, Soviet-style command-and-control scheme that uses import quotas, loans, marketing allotments, price supports, and tariffs to artificially inflate the price of sugar."
Politico reports the bill could move through House Agriculture Committee as soon as next month, setting up another fight between sugar producers and both pro-business groups and candy makers.
However, when Hayes asked the Sugarbeet growers in the room if they felt they were operating in a risk-free environment, many in the audience shook their heads "no."
"These are the lies we have to deal with in Washington," Hayes said.
Sugar is a complex process, requiring specialized equipment to plant, harvest, process and refine raw sugarcane or sugarbeets into refined sugar.
Unlike other nations, the United States does not directly subsidize sugar, which lends it subject to global predatory trade practices, Hayes said.
"We cannot depend on foreign sugar producers to meet America's need," he said. "We'll get burned if we do."
The global market, Hayes said, is a dump market which only represents about 25 percent of global production, This means foreign producers dump their excess surplus on to that market so that it does not depress their domestic market.
By eliminating the Sugar Policy, its opponents argue that sugar will become cheaper and drive down food costs. However, this is misleading, Hayes said. Of the 120 countries globally grower sugar, and not a single country doesn't have some form of government intervention. In the U.S. sugar production is financed through the Commodity Credit Corporation, meaning growers pay back loans with interest at zero cost to tax-payers. Government assistance also comes in the form of subsidized crop insurance which growers purchase to protect their crops in the event of drought, weather or other natural disasters.
"The National Confectioners Association wants the United States to become the only country ever to not have any government intervention in sugar," Hayes said. "They also want us to become the only country in the history of mankind to not have a farm policy."
A prime example, Hayes said, is Brazil, which he referred to as the "OPEC of Sugar."
In his analogy, Saudi Arabia control 17 percent of the global petroleum market. However, when you look at Brazil, it's heavily subsidized sugar industry which stems from ethanol production, controls 50 percent of the world market.
"They talk a lot about the world dump market, which is depressed by foreign subsidies," he said.
However, the dump market is raw sugar, so it's not refined. The priced doesn't include transport from Brazil. It doesn't include the cost of storage, and the logistics to get it to confectioneries.
In comparing refined sugars, Hayes said that consumers in the U.S. pay 22 percent less for a bag of sugar at the supermarket compared to other developed countries. The international sugar organization found that food makers in the U.S. pay 25 percent less than their competitors in the U.S.
And when individuals factor for inflation, sugar prices are 44 percent cheaper than they were in the 1980s Hayes said, but the inputs for growers and sugar processors have not gone down.
"That's the story that is not getting out and that's the story that needs to be told on Capitol Hill," he said. "It's not just that sugar prices are down 44 percent — that's just a number. Let's talk about the pain of sugar prices being down 44 percent. It's hard to make ends meet."
Hayes then segued into discussing a bill known as "The Sugar Policy Modernization Act" which he sees as a threat to the American sugar industry.
"In D.C.-speak, the words modernization and reform really equate to repeal and weaken," he said. "It sounds modest, but it's not. This is about annihilation ... They want to drive you out of business, and outsource our production to Brazil, Thailand and Mexico.
"They want that sugar subsidized by tax payers somewhere, and they realize that we won't subsidize it by tax-payers here in the United States, so let it be subsidized somewhere else."
Hayes declined to use the actual name of the bill, and instead referred to it as "The Sugar Farmer Bankruptcy Bill."
One part of the bill concerns a stocks-to-use ratio, which concerns how much sugar is on the market, Hays said.
"When the USDA targets the program, they try to manage anywhere from a 13.5 percent to 14.5 percent stocks-to-use ratio," he said.
However, that ratio isn't written into law, giving the agency flexibility with the rules.
"What this bill would do is says it has to be at least 15 percent, meaning they can't let it slip below that number, which means they have to raise it up to 17.5 percent," he said. "That will devastate this market. It would be the first time ever that they have mandated oversupplies on the market."
The bill would also eliminate the non-recourse loans, which act as government-funded mortgages. Sugar is put up as collateral, and if the loan is not repaid the sugar is forfeited to the government. The bill would remove the ability to put up sugar for collateral, preventing many cooperatives and growers from securing the credit they need.
"You are legally mandated to pay the loan with cash, and if you can't you go out of business," he said. "They also want to lower the loan rate and depress prices. Every penny you lose is $2 million in the market place."
It's not the first time the American Sugar Alliance has faced off with the confectionery lobby, Hayes said. Five votes on sugar policy were seen in the 2014 farm bill, and luckily, all of them were defeated, he said.
"I used to tell reporters that we've had more votes on the sugar program than we've had Obamacare," he said. "We spend zero dollars on sugar policy, yet we had five votes."
Hayes said it's a tale of two industries. Since 1985, 54 factories have closed in the U.S., taking 100,000 sugar jobs with them. In December, the Hawaiian sugar industry ended its 100 year tradition of harvesting and processing sugar cane, as the last company on the island was pushed out due to illegal dumping of Mexican sugar on the market, which broke U.S. trade law.
"That's what people need to understand in Washington — once sugar factories close, they don't reopen," Hayes said. "There is no miracle that comes in to save those communities."
On the flip side, since 2014, the confectionery industry has expanded 100 new facilities, the bulk of which belong to Mexican and European companies.
"Something is obviously going pretty well for them."
http://ift.tt/2tvFzDf Sugar Beet News |
via starherald.com http://ift.tt/1B8Vr5x
March 8, 2018 at 02:47PM