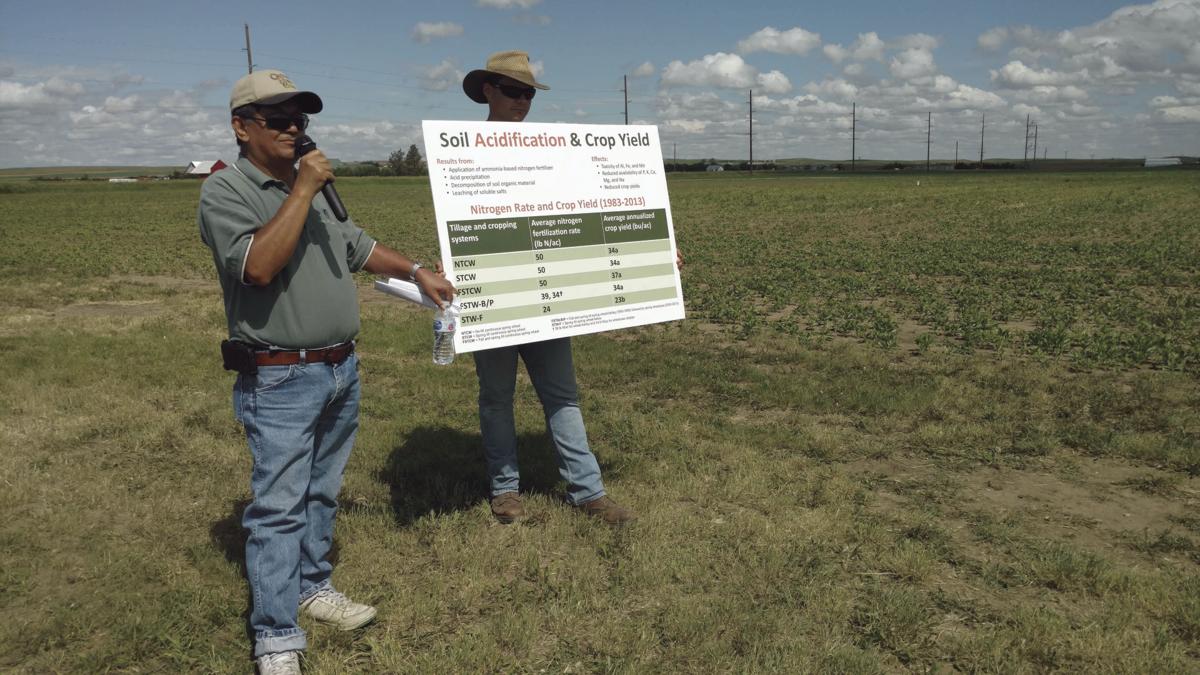 It's a new and emerging problem in the MonDak. Soil so acidic that it has caused crop failure in as many as 20 Montana counties, and a number of northwestern North Dakota counties as well.
Researchers say the problem appears to have been caused by ammonium fertilizers, including urea, applied in excess of crop uptake. The problem tends to be worse in no-till situations, which allows the fertilizer to concentrate in the upper layer of soil.
The answer may be as simple as a single application of lime in the short-term, followed by the addition of a legume to the crop rotation, according to soil scientists like Dr. David Franzen and Dr. Upendra Sainju.
Franzen, with NDSU, is preparing some trials in North Dakota examining the problem, likely in Dickinson and Minot.
Sainju, meanwhile, with the USDA-ARS unit in Sidney, has also been studying the acidification of soils, and presented findings from his research at the recent USDA-ARS/EARC field day in Sidney.
For his study, Sainju examined the acidity of several different tillage and cropping systems, to compare the rates at which they become more acidic over a 30-year period. The system that acidified slowest was a fall and spring till wheat-barley rotation that was later supplanted by a spring wheat - pea rotation. That field needed less nitrogen, since peas can grab nitrogen from the air, so it acidified much more slowly than the others, which included no till continuous spring wheat, spring till continuous wheat, and fall and spring till continuous spring wheat.
Spring till spring wheat - fallow also had slower acidification, due to the fact nitrogen isn't applied in the fallow period, Sainju noted, but that isn't an approach he recommends. Tillage is breaking down soil organic matter much too quickly, which reduces water holding capacity, and leads to too much erosion.
Instead, what he and Franzen both recommended are applications of lime to affected soil, at the rate of 2 to 4 tons per acre, in areas where acidification has become a problem. Results are quicker if the lime is tilled in, but it can also be top-dressed for no-till operations.
To determine where the lime is needed, the field should be sampled by zones. The reason for that is, the pH can vary quite a bit in a low depression from that on a hill top. Each zone should have three samples, one from the top 2 inches, another in the the range of 2 to 6 inches, and then a sample from the 6 to 12-inch layer.
"That will let people know if they have a higher pH zone underneath the top layer," Franzen explained. "The layer with higher acidity should be in that zero to 2 inches, and that's the one to track after putting the lime on."
Sidney Sugars is offering lime by the truckload free of charge to area growers who need it. Lime is a byproduct of sugar processing, and is produced by the ton each year.
Vanessa Pooch is an agronomist with Sidney Sugars, and also spoke during the Dryland Field day, with Sainju.
"We will load (the lime) for free," she said. "You just have to come pick it up and spread it on your fields."
Pooch said the factory has been trying out lime on fields in the area with a few volunteer growers, to see what kinds of benefits it might have.
In addition to better sugar percentages and increased yields, those trialing lime in their fields also reported improvements to the tilth of the soil and drainage. The lime is also a good source of nutrients such as calcium and magnesium, Pooch said. Other benefits can include improved microbial activity, improved nitrogen fixation and better overall nutrient availability.
"The one thing I recommend is to create a trial," Pooch stressed. "Don't do the whole field. Create a trial in your field to see how it does."
Franzen agreed that sugar beet lime is a great amendment for the problem, adding that it's already being used for that in eastern North Dakota.
"There are some logistics involved in hauling it, and you need a loader and a spreader," Franzen said. "You can't use a pneumatic fertilizer to do it, but there are spreaders that can do it."
Growers also don't have to be too concerned about applying too much lime, Franzen added. Carbonates such as in beet lime are right around 8.2 pH, and the MonDak already has soils like that.
"It won't hurt anything if you went too far in a field and limed an area that wasn't acidified yet," he said.