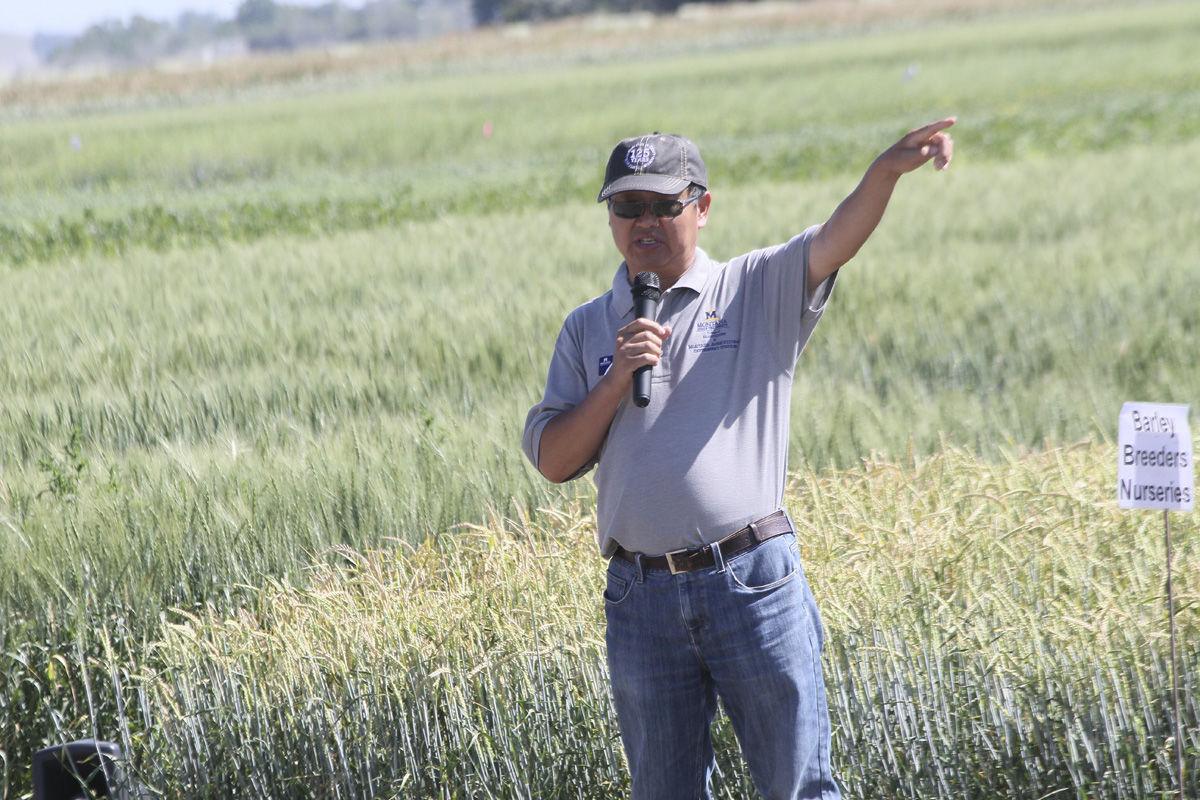 The scientists, research assistants, and summer interns of Sidney's MSU-EARC Extension Office presented this year's research on Tuesday. Montana's governing officials, including U.S. Rep. Greg Giaforte, had representatives there; alongside local farmers, ag loan officers, grain elevator representatives and other parties who have a stake in agriculture and were interested in on-going research and developments.
The 38th annual Field Day began with coffee and donuts, and ended with a lunch sponsored by area businesses. Thirteen speakers shared their updates and revelations on the research conducted through the USDA extension office, with Montana State University in Bozeman leading several of the projects. While much of the research revolves around the local heavyweight, the sugarbeet, pulse crops continue to grow in popularity. These include beans, peas, lentils and chickpeas. The stand-by's of wheat, barley, and durum rounded up the crops that are currently under research and development.
Dr. Chengcei Chen is the MSU-EARC superintendent and presented his work with Mung and Adzuki beans for eastern Montana. They have a growing market and do well in our irrigated systems. They are mostly an export crop, popular in Asian markets to be made into snacks and noodles. They fall into the pulse crop category, and work well as a rotation crop that brings nitrogen back into the soil.
Dr. Jamie Sherman, the barley breeder for MSU-Bozeman; and Dr. Mike Giroux, the department head and plant geneticist at MSU-Bozeman, discussed new lines of barley and durum that are in development. From livestock feed, to pasta and bread production, varieties are bred specifically to fit different needs and change from year to year. That change is constant, an ever-evolving hunt to improve production, while increasing protein and lowering cadmium to meet market demands.
While the U.S. has yet to impose standards on Cadmium levels, parts of Europe will only except certain levels for import, fand Canada is already breeding specifically to meet that specification. Montana and U. S. breeders and growers are following that lead, in an effort to stay current. Other variables include color, especially in plants for pasta production, and how well they break down to create a good loaf of bread. Barley raised for brewery contracts has its own goals to best meet the industry's desires.
Fusarium Head Blight is a plant disease that affects corn, wheat, barley, durum, and can evolve to affect pulse crops at their roots if fields are not properly rotated, treated with fungicide, and even irrigated at the correct time. Dr. Frankie Crutcher presented her research and is clearly passionate on the subject. She urged farmers to contact the MSU-EARC, and her specifically, if they suspect Fusarium Head Blight is present.
It is also known as "scab", and spores from infected plants can fly from 50-100 miles to infect more crops. It will change the seeds from healthy to red or black, then hard and shriveled in affected plants. Humidity plays a large role in the development and spread of the disease, and she advised that growers avoid irrigating during flowering, along with fungicide, to avoid it. Rotation plays a very important role as well, but should you have recurring Fusarium Head Blight, avoiding wheat and corn is recommended.
Growers can use the MSU Extension Office as a resource if they suspect a field of being infected, or can test on their own using a plastic zip-lock bag and a paper towel. When a wheat head they suspect of being infected is placed within, it will turn the paper towel inside the plastic bag red in a matter of days.
Crutcher also covered Rhizoctonia root and crown rot in sugarbeets. It can be identified swiftly by its soft, black welts on beets, and when they are pulled and cut, there is an obvious difference between healthy beet and the necrotic tissue. Similar to Fusarium Head Blight, humidity plays a large role. Rotating with non-host crops, such as wheat and barley, is a good way to be proactive. Beans, corn and alfalfa are not recommended. Foliar application of herbicide is most effective at the 4-8 leaf stage, but will still help if applied later. When asked about overhead sprinklers having an effect, Crutcher confirmed that the splashing of infected soil on top of beets can cause healthy beets to come under attack from crown rot.
One of the last fields and topics covered was the no-till sugarbeet and some of the technology used to monitor irrigation. Dr. Chengcei Chen presented his research on how no-till beets, in time, produce improved soil structure and less surface crusting. A system that is tilled results in degradation of organic matter in the soil, and water-stable aggregates to break down; this leads to accelerated erosion and soil crusting. While it takes 3-4 years for a no-till system to show marked improvement, farmers can look forward to lower costs with less tilling. Weed control can become an issue however, as no-till results in less clear furrows to follow with sprayers.
Extension agent Tim Fine discussed the ph imbalances brought on by tilling and how to test for them. Sulfur based fertilizers enhance this imbalance, and he recommended lime be applied in the fall in its place. Over time, the sulfur-type fertilizers can cause aluminum toxicity in fields. Plants will underperform in this system of raised acidification. Ph kits can be purchased and done at home, but will not show buffering capacity of the soil. The MSU-EARC can be contacted for testing through them. Sandy soil suffers more than heavier, more clay-based soils as clay has its own acid buffering properties.
Dr. Bart Stevens, as research leader and research agronomist at the USDA-ARS NPARL, ended the in-field observations. He explained how probes placed in fields using a small auger and a slurry mix could advance irrigation techniques. The sensors are made of gypsum and encased in perforated stainless steel to protect the probes inside. Once placed in fields, growers can monitor water levels in their fields from their office, or even cellular device, and irrigate accordingly. The MSU-EARC and USDA-ARS can be contacted with any questions regarding their research and testing of local soil and plants. The public is encouraged to attend the annual field day to keep current with the ever-developing research they perform throughout the year.