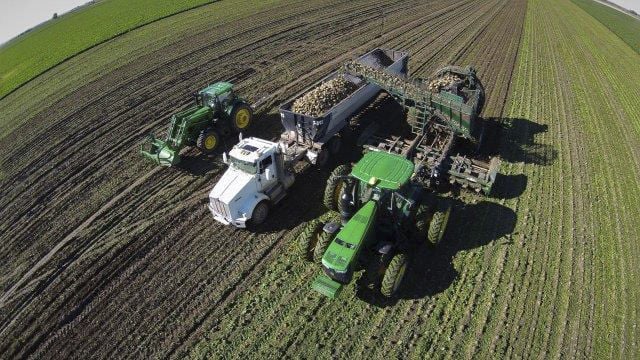 As of 8 a.m. Wednesday, Jan. 24, we completed 130 days of campaign.
Of the six pile grounds, we are down to three: Savage Pile (18,000 tons), Sugar Valley (92,000 tons) and Factory Yard (47,000 tons). Within the next four days, we will have sliced all non-ventilated beets. At the current slice rate, we should complete slicing by Feb. 15, and campaign by Feb. 22.
The factory has had a good run, Slice averaging 6,349 tons per day, while producing an average of 17,812 CWT or 1,781,200 lbs. of sugar each day. To date we've sliced 825,597 tons of beets and produced 2,316,270 CWT or 231,627,000 pounds of sugar.
The extreme cold makes processing beets all the more difficult. All of our employees have done a phenomenal job working through the cold. A big thank you goes out to each employee.
As a food manufacture, each year we are audited for Food Safety and Food Quality. These are two and a half day audits which the auditor inspects every corner of the factory, interviews employees, and examines all policies and paperwork.
The idea is that our customers can review the results of the audit to determine whether they purchase sugar from our facility.
On Jan. 11, our factory completed the unannounced audit, scoring a 98 percent, receiving an EXCELLENT rating. Credit goes to all employees for this accomplishment.
The following are companies which purchase sugar from Sidney Sugars:
BULK RAIL Fine Gran Sugar (200,000 pounds per Rail Car)
CSC Sugar
Indiana Sugars Inc. (powder mixes, liquid sugar, protein powder, etc.)
Kellogg Company
Mars Chocolate North America LLC
Nabisco Inc.
Nestle Foods /Nestle Beverage
Pinnacle Foods
Sweetners Plus
Sweetner Products Company
Transloading Specialists
International Foods
PACKAGED PRODUCT (50 pounds Sacks or Super Sack – Generally 2,000 pounds)
Fine Granulated Sugar
Diamond Crystal Brands (food service)
Adair Foods (owned by Kraft/Heinz)
Quaker Oats Company
Pepperidge Farm Inc.
Whitlock Packaging (Pepsi-Ocean Spray)
Griffith Labs (food service)
Nestle PLT
Leclerc Foods
Frito Lay
International Food Products (food, beverage and dairy)
Insight Beverages
Kerry Ingredients
Continuum Packaging Solutions (beverage co-packer)
America Food Technologies (beverage co-packer)
Tyson Foods
Pinnacle Foods (co packer for, Duncan Hines, Mrs. Butterworth, Log Cabin, Wishbone, Aunt Jemima, Birds Eye, etc.)
Big Heart Pet Brands (Meow Mix, Milk Bone, Kibbles n Bits, 9 Lives
Oscar Mayer Food Corporation
Jel-sert (Flavor-Aid, Kool Pops, Royal, Hawaiian Punch, Crush, Jolly Rancher, Slush Puppie, A & W, Sunkist, Motts, Baskin Robins, Welchs, Wylers)
Clabber Girl
Compact Industries Inc. (beverage co-packer)
Sensory Effects Flavor Company (cereals, powders, baby formula, beverages, etc.)
Kellogg Co.
Queen City Candy
Canners Grade Sugar
Nestle Food Corp
Cordial Sugar
US Distilled (Phillips Distilling Company)
Bakers Sugar (Fines)
General Mills
CSM Bakery Products NA (breads, muffins, desserts)
Pharmaceutical (National Formulary)
McNeil Consumer & Specialty Pharmaceutical (owned by Johnson & Johnson) (sugar used for children's over the counter medication)
Univar Canada (prescription and non-prescription medication)
Pfizer Canada (prescription and non-prescription medication)
Local
Clover Valley Apiary (bee keeper)
Eastmont Enterprises, Sidney
Meadowlark Brewery, Sidney
Cross Country Brewing LLC Glendive