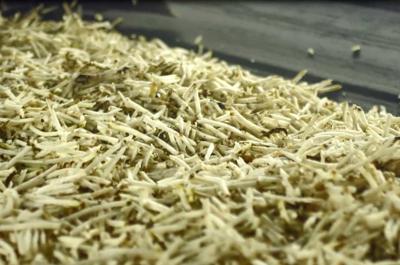 Idaho sugar beet farmers harvested a large crop last fall that still fell half a million tons short of their record yields of 2016.
Yet in the homestretch of processing the 2018 crop, officials with the grower-owned Amalgamated Sugar Co. anticipate they'll end up with about as much — and possibly even more — finished sugar as two years ago.
Last fall's crop, which should be fully processed by early April, is a testament to the company's recent choice to prioritize boosting the sugar content in each beet over increasing total yields, explained Pat Laubacher, Amalgamated's vice president of agriculture.
Story continues below video
Laubacher said the company's processing plants are already near capacity, and raising sugar levels is the best way to increase the company's output. In 2016, he said the company purchased 7.5 million tons of beets from growers, with an average sugar content of 18.04 percent. Last fall's 7-million-ton crop had a record high sugar content, at 18.51 percent.
"It could be a record sugar production," Laubacher said, adding he expects output to be north of 2.3 billion pounds of sugar.
Laubacher believes a pair of strategic initiatives the company's board of directors enacted more than four years ago have played a significant role in increasing production of finished sugar.
The first goal they set was to boost sugar content to 18 percent company-wide by the end of 2020. The second goal was to reduce farm-to-factory losses by 30 percent by 2020. Laubacher said the company is already meeting both goals, and the 2018 crop appears to have stored exceptionally well.
"From the growers' perspective, (Amalgamated's 2018 crop) was the best beet crop in the U.S.," Laubacher said. "Nobody's was even close."
Advanced technology has helped the company steadily improve. Amalgamated has started using a new smartphone app, which tracks temperatures and enables the company to stop growers from harvesting when it's warmer than 55 degrees. When temperatures rise, Laubacher explained beets consume their stored sugar at a higher rate.
In the fall of 2014, the board created a new beet variety approval process with a focus on sugar content, while also seeking to improve disease resistance. Two years ago, Laubacher said the company revised its quality incentive program, emphasizing beets with fewer impurities that process better.
At the start of this year, the board also approved a new beet payment formula paying growers a greater premium for high sugar content.
Laubacher said the company has worked with growers to focus on managing their nitrogen fertilizer applications. He explained new beet varieties are bred to produce more sugar with fewer impurities with less nitrogen.
Duane Grant, a Rupert farmer who serves as chairman of the board of the grower-owned cooperative that owns Amalgamated, called Snake River Sugar Co., said growers benefited from ideal weather conditions last season. However, he's convinced good management deserves at least 70 percent of the credit for elevated sugar levels.
He said growers received strong guidance about nitrogen application, varieties to plant, the timing of agronomic decisions and storage.
"The management decisions were able to express themselves without being curtailed by extremes in nature," Grant said.
The vast majority of Amalgamated's growers farm in Idaho, but the company also has growers in Oregon and Washington. Laubacher said the company plans to contract for 177,000 acres this season, up about 3,000 acres from the prior year.
https://ift.tt/2u0gKN1 Sugar Beet News |
via Idaho State Journal https://ift.tt/2VSMeke
March 11, 2019 at 01:52PM