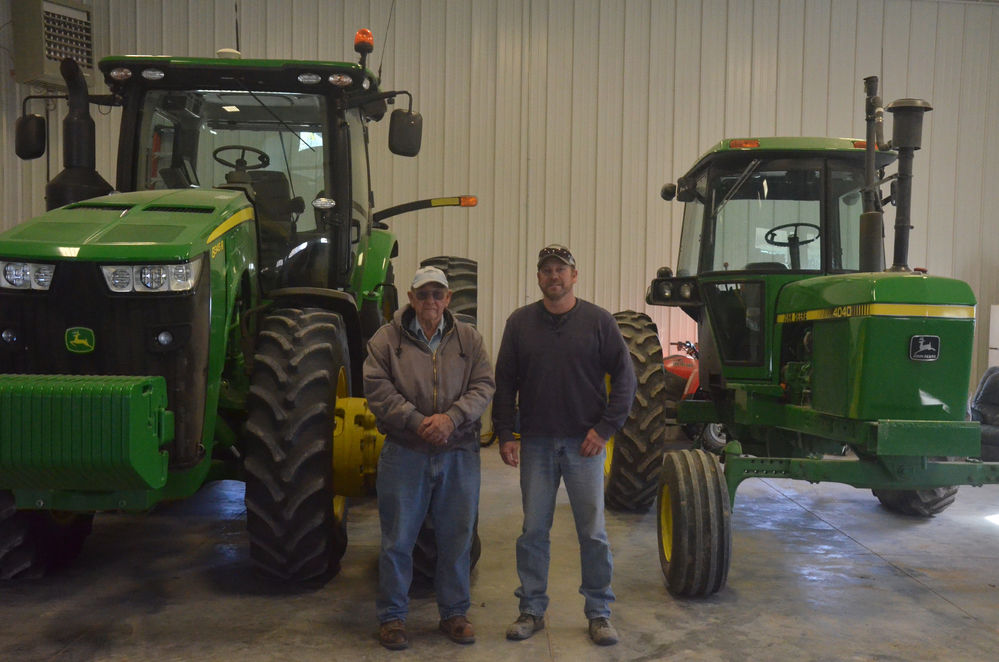 MITCHELL — Robert Busch got his first contract to grow sugarbeets in 1959 on 80 acres he rented from another grower, but he admits he grew into the lifestyle long before that.
"My dad started farming on his own in 1947," he said. "My grandad never had a beet contract, but he migrated to Riverton, Wyoming, in 1942, and he started growing for Holly Sugar company up there. Our family has been in the business since forever."
His son Kendall Busch followed in his father's footsteps as the fourth generation of the family to farm sugarbeets.
"I graduated in '79 and went to two years in junior college down near Lincoln where my older brother went, and dad bought the east farm in '81," Kendall said. "In '82 I had two years of education and decided to start farming."
His first 80-acre quarter right up from the hill from the house, and began farming other plots of lands.
The time of labor
Robert was born on April 22, 1936, and by May 10, he was laying in the back of a car asleep while his mother thinned beets. In nicer weather, he'd sleep beside the car while she worked.
"When we started planting beets they had segmented seed," he said. "One seed would make four or five plants, like lettuce.'
Traditionally, seeds were over-planted and then thinned to establish a stand of sugarbeets. That allowed for growers to compensate for variable emergence rates and the extra plants gave growers wiggle room for the plants that would sometimes get nicked by a hoe during the thinning process.
When he was old enough, Robert joined in with the work, crawling on his hands and knees behind his mother thinning out the extra plants as she'd hoe and block the lines.
"The industry has come so far, it's unbelievable," Robert said. "When they went away from segmented seed to monogerm — one seed per plant — that really revolutionized it. It was so much easier to thin."
But until then it was difficult and labor intensive work.
"Back in the day the sugar company would go down to Texas and recruit workers to come," Robert said. "Then for about four or five years they had a program where they'd go down into Mexico and brought up Mexican labor."
The Bracero Program (from the Spanish term bracero, meaning "manual laborer" or "one who works using his arms") began in the early 1940s when the U.S. signed the Mexican Farm Labor Agreement with Mexico. The agreement guaranteed decent living conditions (sanitation, adequate shelter and food) and a minimum wage of 30 cents an hour.
"They'd bring the farmer in and bus us to Mitchell," Robert said. "My dad and other farmers would go in and you were assigned workers for however many acres you had."
Robert's dad had 45 acres, so they were assigned five workers.
"You were responsible for furnishing a house, furniture, silverware, and the day you brought them home you stopped at the grocery store and bought their groceries," he said. "You paid for that and got them set up in their house, and then they went to work."
The sugar company was in charge of the workers, and if they proved unruly, Robert said they were shipped back to Mexico immediately. Sometimes, however, circumstances were beyond their control.
"My dad had a guy one year that had a tooth that got infected, and it was so bad that the local dentist wouldn't touch him," he said. "They sent him back to Texas, and I bet he died."
As the war progressed, growers switched to using German prisoners of war to work the fields.
"I don't remember war prisoners thinning beets, but I remember them topping beets and picking potatoes," he said.
In 1943, when Robert was 6-years-old, he was out walking around the POWs as they stopped to take a lunch break at the shed near the house on his farm.
"One of the prisoners grabbed a hold of me and hugged me. It scared me to death, and said to me in German, 'Ich liebe dich,'" Robert said. "I was so scared and ran into my house to tell my mom."
His mother calmed Robert down and told him that the man had said, "I love you."
"She told me 'Do not be afraid, because he's got a little boy just like you in Germany,' and he didn't know if he was alive or dead," Robert said.
Robert said that most of the German POWs were synonymous with sugarbeets — they were from farming backgrounds and enjoyed the work, much like many of the early settlers in Nebraska and Robert's own grandparents.
"A lot of the prisoners were glad to be here because they knew they would survive," he said. "But if you had an SS guy, the MPs would always keep an eye on them."
The times are a changing
Robert also witnessed the changeover from hand-topping during harvest to mechanical topping — one of the first mechanical beet toppers, designed by Scott-Urschel, was tested in a field right east of Robert's house.
"It was a one row carrot picker and it didn't work," Robert said.
In 1970, Robert and his father went in together to purchase a six-row top saver based on an early two-row design by Thorval John (T.J.) Lockwood, a one-time Nebraska farm boy who became a successful equipment manufacturer.
"My dad passed in 1974," Robert said. "But if he would come today to see what we do today and the tractors that we have — ayeyaiyai."
Kendall said they used the top saver until 1985 when an early freeze made it nearly impossible to take the tops off. From there he began using a defoliator to strip the tops before harvesting beets.
"We used to haul our beets two and a half miles to the beet dump," Robert said. "The trucks were big, but the changes to transportation have been huge."
When he started, Robert said they'd usually haul five or six loads into town, sometimes seven, before they'd get stopped by state troopers for being overweight, to which Kendall said "something don't change."
For re-haul, however, farmers would put their name in a hat and they were drawn in a lottery.
"My dad hauled twice that I can remember, and he bought a brand new truck in '51, which we'd used to haul seven tons that we hauled to the Mitchell factory," he said.
In those days, beets from other dump sites would be hauled to the factory in Gering via rail. Beet pulp, which is a by-product of the sugar production used for animal feed, would be hauled back out and left at the rail sidings where sheep feeders would shovel it out of their cars. At one point in time, roughly 200,000 head of sheep were fed in the valley, and the same tracks that would haul beets from the fields during harvest also brought lambs in to the Swift plant for slaughter.
As mechanization changed how beets were grown in harvest, Kendall says two things have really stuck out in his mind: planting to stand, which Robert and Kendall adopted in the early 1990s, and the introduction of genetically modified "Round-Up Ready" sugarbeets, which were tolerant to glyphosate, Round-Up's key ingredient. GPS tracking in tractors, which have allowed farmers to plant and harvest precision straight crop rows have also been a major development.
"I shouldn't say farming is easy nowadays, but if you look at the way they used to do it back then, and gosh, farmers my age or younger wouldn't be farming," Kendall said.
It takes a leader
For Kendall, the struggle comes from finding fellow farmers who are willing to advocate for agriculture and get involved off the farm.
"Even trying to find someone to run for the church board or bean board, beet board, the first thing they ask is 'how much do I get out of it?'," Kendall said. "You get out of it what you put in — that's what dad got me started on. You don't make any money out of that stuff, but we get a lot of satisfaction out of it."
Robert started serving on his church board when he turned 26, but his work as an ag leader began after he was appointed to the Nebraska Sugarbeet Growers Association board in 1987.
"We fed sheep, and I was busy seven days a week, all winter long — I just didn't have time to do that stuff," Robert said.
After getting out of the sheep business, Robert was informed of the vacancy and decided he ought to do his part.
"It whetted my appetite, and I got into the legislative part of it — wow. It was the greatest time of my life," Robert said.
Robert also served about four or five years on the American Sugarbeet Growers Association Board.
"There was a trade agreement called The General Agreement on Tariffs and Trade (GATT), and I got interested in that after I served on the (Scottsbluff-Gering United) Chamber of Commerce Agribusiness board when Keith Ellis was the director," Robert said. "I asked Keith if the chamber would be interested in sponsoring a meeting about GATT, and he had no clue what I was talking about, but he dove in head-first."
After visiting with Luther Markwart of the American Sugarbeet Growers Association, Robert was able to land Mike Warner, the chair of the American Association's legislative committee. Robert said the meeting was set for the Scottsbluff Elks Club, and some 300 people attended — a huge turnout.
"(Mike Warner) is one of the greatest farmer advocate speakers I've heard in my life," Robert said.
Robert was also an advocate involved in national and state issues, and insists that it was the most fun he had in his life. He dove in, going to D.C. to work on overweight hauling limits so growers could get their beets to the factory. And his impact lasts today in one prideful accomplishment at the state level.
"Many years ago we had a farmer that got killed in a combine, and as farmers do we take care of each other," Robert said. "He had two boys, and when it came to harvest his corn, they made an arrangement with a feedlot to take out his corn. There were other farmers coming to help with their trucks, and they loaded the first semi and headed out on the road."
But as soon as they got on the highway, the first truck was stopped by a trooper. The driver was ticketed $750 for an illegal use of a farm permit, because it was someone else's corn on their truck.
They took the ticket without protest and continued to work all throughout the day. But that night, one of the drivers got a hold of Robert and let him know, and Robert went right to work.
"I had a good friend of mine from Hebron, Nebraska, was a state senator and a farmer, and I called and told him what happened," Robert said. "He told me, 'I'll be damned, I didn't know that. Let me check in on that.'"
Three days later, Robert got a call saying they needed to do something, so Robert wrote the legislation. His friend then carried it and got it introduced in Lincoln.
"I drove down and testified, and the transportation committee never even left the room," Robert said. "They approved that legislation so semis could exchange labor with a neighbor with a farm permit."
The legislation proved to help out other farmers who cooperate; if one farmer owns the harvesting equipment and the other owns the trucks, they can still get their crops hauled in to town legally.
Following in his father's footsteps today, Kendall continues on as the president of the Nebraska growers association and will start his 13th year on that board, and has been on an American Director for 11 years.
"If you want to do it right, you can do both," Kendall said. "And when people ask me how can you do both, I tell them you just have to improvise."
Robert had some doubts about his son at first.
"When he first started I thought he was so laid back and quiet," Robert said. "But when I heard his interview on the radio today, I thought, 'Wow — that's my kid."
Without farmers being involved, it would be a sad state of affairs, Robert said.